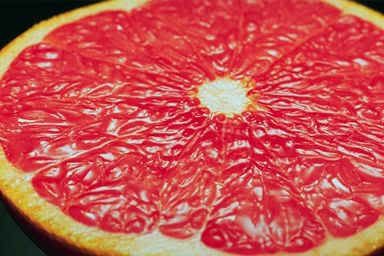 Fad diets don't work–at least not for long–and yet, I've managed to let a good friend talk me into trying the ridiculous Grapefruit Diet with her. The claim: you will lose 52 pounds in 10 weeks, or about five pounds a week.
yeah….and you'll also never want to see another grapefruit again for as long as you live.
What the heck, though…my buddy wants to give it a shot, and she doesn't want to do it alone (what is it they say, about how misery loves company?) and so I'm going to give it a whirl.
12 days without pasta. Lord help me! The rules are pretty straightforward:
* Drink 8 eight-ounce glasses of non-caloric drinks (preferably water). Slosh slosh…just like any other diet so far
* You can eat until you are full (uh, thanks) and you can't eliminate anything from the diet (especially the grapefruit servings, the bacon and the salads), lest you tear a whole in the very fabric of the space-time continuum.
* You can stuff your face full of huge portions of meat, salad, and allowed vegetables, but Allah have mercy on your soul if you eat so much as a grain of rice or a crust of bread.
* Limit coffee/caffeine intake to one cup at mealtime.
* No snacking between meals. Duh.
* You can drown your allowed foods in butter, but stay away from all desserts, breads, white (starchy) veggies, and potatoes of any kind.
You're supposed to stay on this diet for 12 days, take 2 days off, and then start up again. I'll be lucky if I last a week.
My buddy and I will weigh in again next Sunday, and whoever has lost the most weight wins (based on the overall percentage of body weight lost, not the actual # of pounds). The loser has to kick in $5 towards a future lunch date, where we'll most likely gain back every ounce we've lost.
The menu:
Breakfast: 1/2 grapefruit or 8oz unsweetened grapefruit juice, 2 eggs (any style) 2 slices bacon
Lunch: 1/2 grapefruit or 8oz unsweetened grapefruit juice, Salad with any dressing, Meat (any style, in any amount you want), Coffee or tea (1 cup)
Dinner: 1/2 grapefruit or 8oz unsweetened grapefruit juice, Salad with any dressing OR a red or green veggie cookied in butter or spices, Meat or Fish (cooked in any style).
Bedtime Snacks: 8 oz of tomato juice (YUCK) or 8oz skim milk (ugh, those are the only two choices? bleh)
We'll see how this goes. I would like to lose a total of 19 pounds by June 30th, which is the day I leave for my big European summer vacation. This diet seems like a modified form of Atkins, which is one of the only other quick-fix diets that every worked for me. Wish me luck!